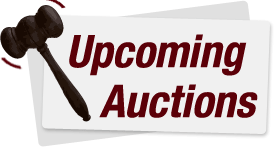 !! UPCOMING AUCTIONS !!
UPCOMING AUCTIONS – WATCH FOR ADS OR WEBSITE
BOBKAUCTIONS.COM OR AUCTIONZIP.COM
HINDMAN ESTATE – SATURDAY, MARCH 30, 10:00AM
254 ROLLER RD., ROGERSVILLE, MO
LIFETIME ACCUMULATION – ANTIQUES, FURNITURE, ANTIQUE BILLIARD TABLE,
ANTIQUE SLOT MACHINE, ANTIQUE RADIO TESTING EQUIPMENT,
ELECTRONIC TESTING EQUIPMENT, TOOLS, HOUSEHOLD & LOTS MORE!
JESS WOOD PLUMBING & HEATING CO., INC.
FRIDAY, APRIL 5, 10:00AM
2050 S. CAMPBELL, SPRINGFIELD, MO
NOTE: AFTER 60 YEARS IN BUSINESS SERVING SOUTHWEST MISSOURI WE WILL BE RETIRING & LIQUIDATING OUR BUSINESS, INCLUDING SERVICE TRUCKS & VAN, TRAILER, SCISSOR LIFT, SHOP & HAND TOOLS, PLUMBING INVENTORY & MORE!
COMBINED ESTATES
SATURDAY, APRIL 6, 9:00AM – 1444 N. WABASH, SPRINGFIELD, MO
ANTIQUES, FURNITURE, GLASSWARE & MISC. TO BE SOLD!